Why choose Imunify360?
Check our way to ensure Linux server security.
Imunify360 is a complete security suite with all components working together to keep your servers safe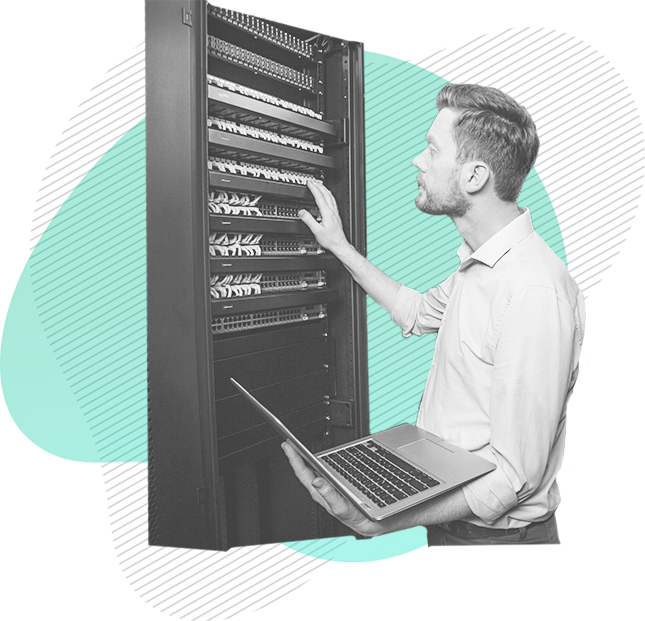 You may have heard of that in order to stay on the top of security, protection have to be ensured at different levels. But, what does "multi-layered approach of information security" stand for exactly?
Imunify360 is a complete security suite with all components working together. A fully-automated solution for hosting providers keeping your web servers protected at all levels.
Let's dive into how Imunify360 could help you take your server security to the next level and achieve your business goals by minimizing support tickets, reducing server load and creating mutually beneficial relationships with your clients.
Synergy of components working together to
take your server security to the top
Ideally, the security solution should protect you from all different angles. But, in reality, it misses some spots leaving critical areas vulnerable and completely unprotected. What are the main gaps security solutions have uncovered?
The chart below is here to show you that regular security solutions indeed protect you at all security layers. However, this average protection still misses out some critical vulnerabilities. But don't worry, Imunify360 has your back covered – with Antivirus, Firewall, WAF, PHP Security Layer, Patch Management, Domain Reputation with easy UI and advanced automation. Along with that, a significantly lower false positive rate is our top priority. With Imunify360 protection, you can forget about false alarms and keep your business & website protected when it matters most. Our protection makes Imunify360 a must-have for any business.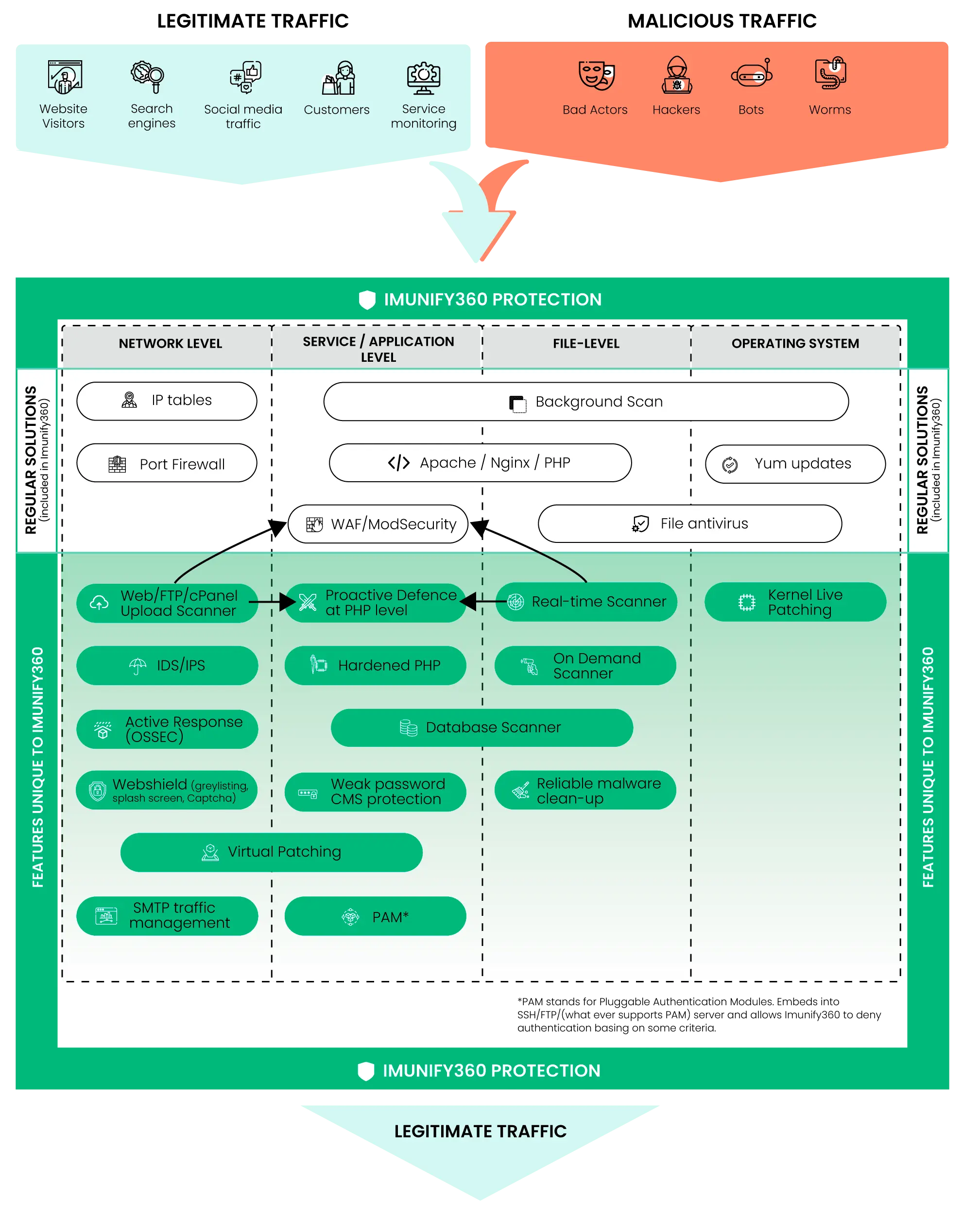 Ultimate protection & high-class service.
You deserve both.
Experience with Imunify360 goes far beyond just providing premium security protection for your web server, our security experts and support team work together to deliver outstanding service.
Imunify Security team has a designated team of security experts (some of them are the veterans of security industry), who continuously identify risks, eliminate threats and ensure proactive protection. Forget about reactive security, become proactive now with Imunify360.
Get technical assistance any time from our customer support team. Our team will invest the time into carefully troubleshooting your case and provide assistance promptly.
Complicated security, simplified results
Imunify360 offers not only user-friendly GUI, but also provides instrumental features to enhance your experience with Imunify360. Notification services, hooks, adviser, domain reputation check-ups, flexible CLI, fleet management, back-up integration - all come together with Imunify360 right after the installation. Imunify360 is here to cater to your security needs with easy deployment and auto-configuration.
Frequently Asked
Questions
Why security is very important in Linux server?
Linux server security is important since malware not only affects the productivity of your server, but also has long-term effects on your business continuity, revenues, domain reputation and ranking of websites associated with your server. Imunify Security team prepared the article explaining "Why malware on the server is always a bad thing"
 What is Imunify360?
Imunify360 is a comprehensive security suite for linux web-servers. Antivirus, Firewall, WAF, PHP Security Layer, Patch Management, Domain Reputation with easy UI and advanced automation. Find out more about Imunify360, Linux Malware scanner and how it works here. 
What systems do you support?
We support all the popular systems CloudLinux OS 6,7,8, Ubuntu 16,18, 20, CentOS 6,7,8, Debian 7,8,9,10, RHEL 6,7,8, AlmaLinux 8
What panels do you support?
We have a simple installation at any of these panels – cPanel & WHM, Direct Admin, ISPmanager, and Plesk.
What should I do if I do not have a hosting panel?
Imunify360 offers Stand-alone installation. The detailed instructions are available here.
How can I test Imunify360?
You could explore Imunify360's all set of features free for 14 days on an unlimited number of servers. No credit card information required. After the trial period is over, you can purchase an Imunify360 license via CloudLinux Network (CLN) by logging in to cln.cloudlinux.com.
Where I can find the list of providers that offer Imunify360?
The list is available in our Partner directory here.
How can I get technical support for the Imunify Products?
For technical support, visit the Imunify Support Portal. Powered by a Unified Search feature that obtains results across all available resources, this is your 24/7 gateway to all the information you might need to answer your questions or troubleshoot issues.
How do I get started with Imunify360?
Our Getting Started guide will guide you through all the steps of the installation process and help you explore all features of Imunify360.
What is the price of Imunify360?
The pricing of Imunify360 starts at 5 USD /mo. You can find more information about pricing here.
How to become a partner or reseller?
We have created this handy Partner Guide to help you effectively promote Imunify360 to your Shared and VPS customers and accelerate your sales. You can learn more about the Imunify360 partner program here.
Where to find Imunify360's documentation?
You can find all technical documentation about Imunify360 here.
Do I still need ImunifyAV(+) after buying Imunify360?
No, you do not need ImunifyAV (free Linux server antivirus) or AV+, Imunify360 provides full protection and both ImunifyAV+ and ImunifyAV are included into Imunify360 security suite.
What is user count, how do I know which license to choose?
User count is basically the number of hosting accounts (i.e. control panel users or subscriptions) on your server. This means distinct non-admin users (not websites or domains). Note, that all hosting accounts are covered in any case as Imunify360 works server-wide: you have to choose the license accordingly.
How can I access the Imunify Products forum?
Visit the Imunify Products forum to get help from the large customer community, as well as senior support engineers.
Still not convinced?
Get a free 14-day trial and see the results in just one week.
GOT ANY
QUESTIONS

ABOUT IMUNIFY SECURITY?
Our top-notch support is here to help.